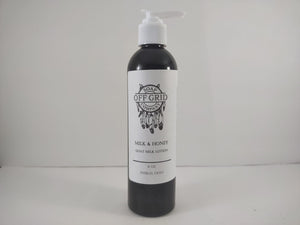 Goat Milk & Honey Lotion
Our milk and honey fragrance is a warm comforting blend of creamy milk, sweet honey and a hit of oatmeal
Our goat milk lotion is made from scratch using the very best of ingredients, it is made with milk from our own goats.
This lotion leaves your skin with a wonderful silky smooth texture without being heavy and greasy.  It has been created with delicate levels of fragrance which lends itself to being suitable to use on your face in addition to being a great whole body lotion.
Ingredients: Sweet almond oil, avocado oil, stearic acid, emulsifying wax, shea butter, distilled water, goat's milk, germaben ii, fragrance oil.
Our lotions come with a convenient pump dispenser in an 8oz black plastic bottle.  Our bottles are BPA free PET plastic.