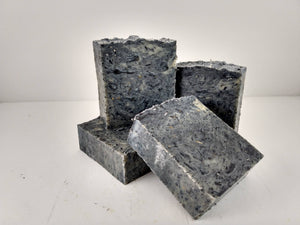 Camping Goat Milk Soap
This soap is an essential for everyone who is enjoying the great outdoors this summer. It is packed full of bug fighting essential oils which is strong on the citronella with a pleasant hint of lavender.  The addition of activated charcoal makes this the perfect soap for a deep down clean on your next camping trip.
If you hate those pesky mosquitoes why not pair this soap with our camping lotion for twice the impact! 
Our soaps are all handmade from scratch on our homestead in Peebles, Ohio.
With the carefully selected oils this soap is moisturizing and leaves your skin feeling happy and clean!
Ingredients: olive oil, coconut oil, palm oil, sodium hydroxide (lye), goats milk, ground oats, citronella & lavender essential oil and activated charcoal