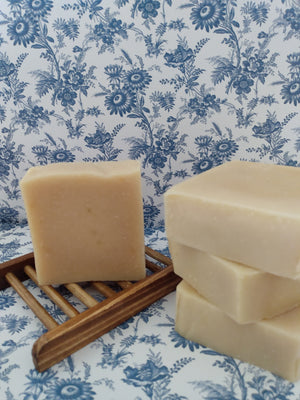 Goat Milk Soap- No Oats
Our customers have asked and here it is......a bar of our goat milk soap without oats.  Whether you prefer the texture or enjoy it because you have to avoid gluten we think you will enjoy this soap.
This bar contains our usual nourishing, farm fresh goat milk and no additional fragrance, it just smells of soap. This is a great choice for customers with delicate skin.  While we do not make any medical claims about our soaps we can tell you our customers with excema enjoy using our unscented soap on their skin. This soap contains just five simple, easy to read ingredients, no long chemical names here, so you can feel confident knowing what you are putting on your skin. 
We make all of our soaps and other products from scratch, by hand on our homestead in Peebles, Ohio with milk from our own goats.
You may enjoy pairing this soap with our unscented goat milk lotion
Ingredients: olive oil, coconut oil, palm oil, sodium hydroxide (lye), goats milk.