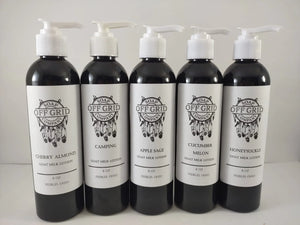 Goat Milk Lotion
Indulge your skin with this luxurious goat milk lotion! Freshly made on the farm with artisanal quality, the lotion is soft and non-greasy, providing your skin with a nourishing texture. Experience the best of nature with this all-purpose moisturizer.
Our bottles are 8oz and each one comes with a pump dispensing top.  Our plastic bottles are BPA free, PET plastic and number one for easy recycling.
The ingredients are the same in each lotion with the addition of either an essential oil, fragrance oil or neither in the case of our unscented lotion.
Ingredients;
Sweet Almond Oil, Avcocado Oil, Stearic Acid, Emulsifying Wax, Shea Butter, Distilled Water, Goat Milk, Germaben ii.