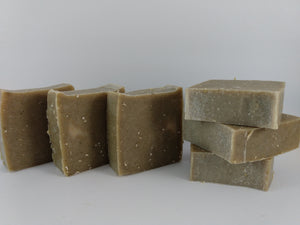 Apple Sage Goat Milk Soap
If you've tried our apple sage goat milk soap you probably love it, if you haven't tried it you are going to want to consider adding it to your cart.  Apple sage smells like fresh green apples, with a very slight herbal fragrance in the background. It's such a fresh and clean scent, you will enjoy pairing it with our matching apple sage goat milk lotion. 

Not only does this soap smell heavenly it is also great for your skin. With our special recipe of goat milk, ground oats and dried powdered nettle this is a powerhouse of a soap.
As with all of our soaps, these are handmade from scratch on our off the grid homestead in Peebles, Ohio.
With the carefully selected oils this soap is moisturizing and leaves your skin nourished.
Ingredients: olive oil, coconut oil, palm oil, sodium hydroxide (lye), goat milk, ground oats, dried nettle powder and fragrance oil