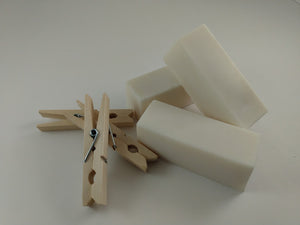 Laundry Stain Stick
No-one likes to do laundry, do they? Certainly no-one likes to discover a dried in stain while they are doing their laundry.  This laundry stain stick is simply amazing, it works on fresh or dried in stains.  To use; wet the stain and the laundry stick and scrub the stained item and then wash as usual.
These sticks kick a powerful punch against all those stubborn stains, we tested it on dirt, blood, red wine and spaghetti sauce.  Depending on the fabric some stains came out immediately, some needed to be scrubbed for a minute or two.
The laundry sticks are 3"x1"x1"
Ingredients;
Coconut Oil, Goat Milk, Water, Lye